We actively promote healthy eating at St. Joseph's and are happy to have gained Healthy School Status.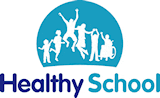 Our meals are cooked on-site by a wonderful team in conjunction with Leicestershire County Council who have achieved their 'Food For Life' Silver award. This is an independent award scheme that means you can guarantee that the food on your menu meets certain standards.
For more information about this scheme, please visit the Food for Life website.
Details of the current cost of school meals can be obtained from our school office.

The menus are set at the beginning of each academic year, on a three-week rolling basis. Here are our current menus:
Fresh fruit and yoghurt is available daily.
Our menus meet all the government food based standards.
Food for Life news from Leicester County Council: